The majority of town planning development applications in Brisbane City Council revolve around the extension, alteration or demolition of a pre-1947 dwelling in a Traditional Building Character overlay (i.e. a character house). This article is going to explore what values these buildings have to Council and what you can/cannot do to them.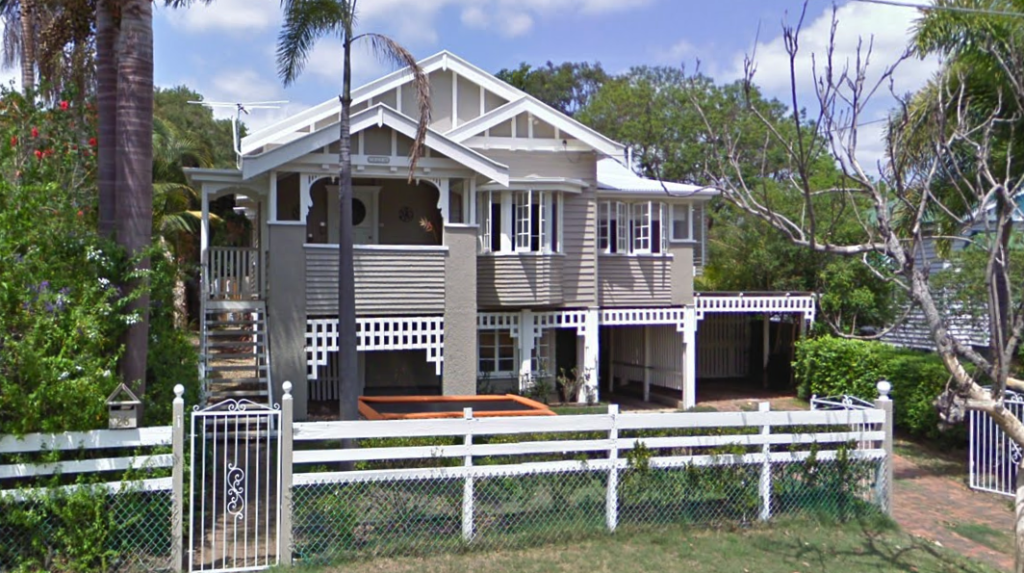 Firstly, a 'character' house is only considered a 'character' house if fulfills the following criteria:
The house is built pre-1947; and
The property as the Traditional Building Character, Heritage or Pre-1911 overlay.
If you don't tick both of the above boxes, the house isn't considered 'character' and can be removed/altered without any planning approvals. For example, a beautiful Queenslander in Ascot that does not have the Traditional Building Character overlay can still be removed/demolished; but if an ugly house next door was built pre-1946 and does have the TBC overlay, it cannot be removed. Why do Council sometimes allow the demolition of character houses? Because Council has deemed the street to be 'compromised' and the house no longer has any value or the street is zoned for higher density development and the pre-1947 houses are holding up the redevelopment. How can you find this information out? Do a simple PropertEASE report or look at the Brisbane City Council interactive mapping.
Why does Council want to keep the appearance of these Dwelling houses so intact? From churches and worker's cottages, Queenslanders and traditional corner stores, to Californian bungalows and pre-federation houses, Brisbane's heritage and character buildings reflect the best of Australian architecture and the city's local history. In order to protect Brisbane's past and maintain the architectural heritage and character of the city and suburbs, their planning scheme outlines requirements for appropriate development in Brisbane's older suburbs, and for renovating, demolishing or removing some buildings.
The relevant overall outcomes under the City Plan 2014 follow:
Development protects residential buildings constructed in 1946 or earlier that individually or collectively contribute to giving the areas in the Traditional building character overlay their traditional character and traditional building character.
Development protects a residential building or a part of a building constructed in 1946 or earlier where it forms a part of a character streetscape comprising residential dwellings constructed in 1946 or earlier nearby in the street within the Traditional building character overlay.
Development retains a residential building constructed in 1946 or earlier that reflects the traditional building character other than 'timber and tin' architecture.
So, what can you do to a character house without approval? Brisbane City Council have a range of 'accepted/exempt' building works that they consider being minor enough to do without planning approvals. The full list can be read here but I have put a bit of an overview below:
an enclosed extension under an existing building to the extent of the core of the building along the front and side boundaries, other than a dwelling in the Local character significance sub-category;
an enclosed extension at the rear where preceded by lawful demolition as either accepted development or approved in accordance with the Traditional building character (demolition) code;
an external stair, ramp or lift;
internal building work;
a carport, garage, shed or other outbuilding at the rear of the building;
a carport: if located: between the building and side boundary; or between the building and front boundary, where a maximum total width of 6m or 50% of the average width of the lot, excluding eaves, whichever is the lesser;…
decks, verandahs, balconies and other shade structures at the rear of the building;
an in-ground swimming pool and/or spa (of any size) and unenclosed ancillary shade structures (where not at the rear, any shade structures are to have a maximum roofed area 10m2 and maximum height 3m)
As you can see, you can do quite a lot without Council approval if you can stick within the guidelines. If you look at the below image of a 'character' house, I have highlighted the original house, the extensions, and the 'assessable' extensions. Although this one triggered a development application, it was fairly easy to gain the approval due to the minor amount of 'assessable' building work proposed.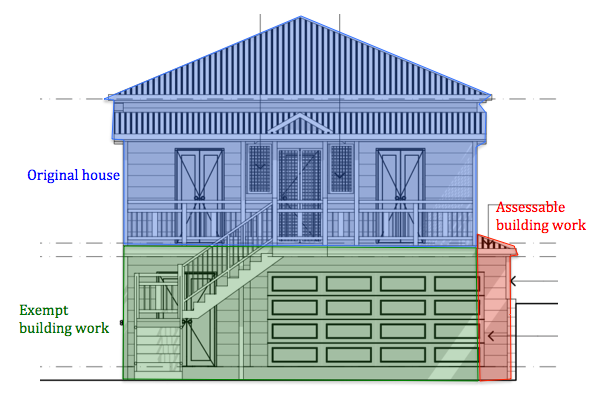 What about partial demolition? You can do various bits of demolition to a 'character' house without Council approval. These usually include small outbuildings (e.g. stairs) and demolition to the rear of the house (rear of middle and highest point of the roofline). But Council will not usually let you 'narrow' the house or demolish integral components of the house that contribute to the street. For example, the below would not be a supportable 'partial demolition' as it results in a Dwelling house that is not consistent with the original setting, scale or bulk within the street. This scenario is very common with splitter blocks with a pre-1947 house sitting right in the middle of it.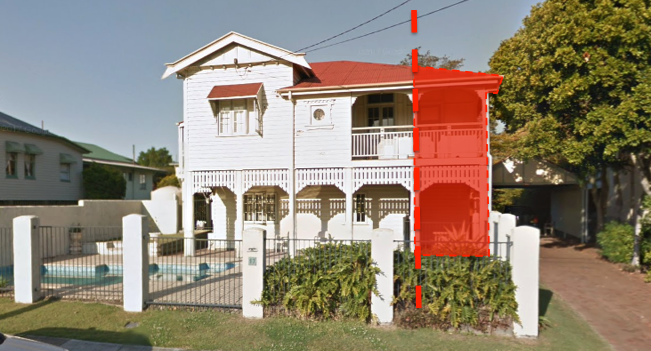 For this same reason, full demolition of a 'character house' is also very difficult to gain the approval for. Note, 'moving' a character house off a site to another 'character' site is considered the same as a 'demolition' as it still removes it from the site.
What if the site is zoned for higher density (for example an 'LMR' site) and it has a character house on it? Well, be prepared to keep it and integrate it with the development. You'll see this quite a lot through the inner city suburbs of Brisbane like Highgate Hill, Fairfield, Norman Park…etc. So long as the house remains, you can still build around it, in it and behind it.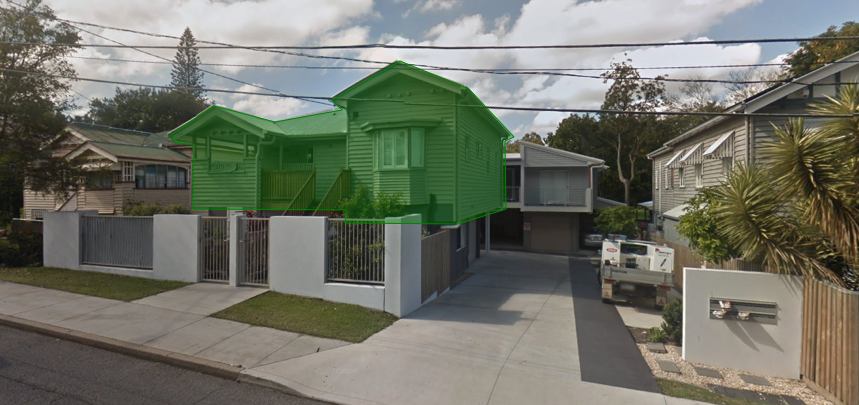 The best advice I can give anyone who is dealing with a character house or a character overlay is to call your local town planning consultant before purchasing or starting any plans. A simple call could save you thousands of dollars and more importantly the heartache if what you want to do is not achievable. As always, a PropertEASE report will highlight any 'character homes' as part of its standard searches. Any questions, please feel free to post a comment.
This article has been written by Alexander Steffan from Steffan Town Planning.
Learn more about character housing: https://learn.urpec.com.au/courses/traditional-and-character-housing/